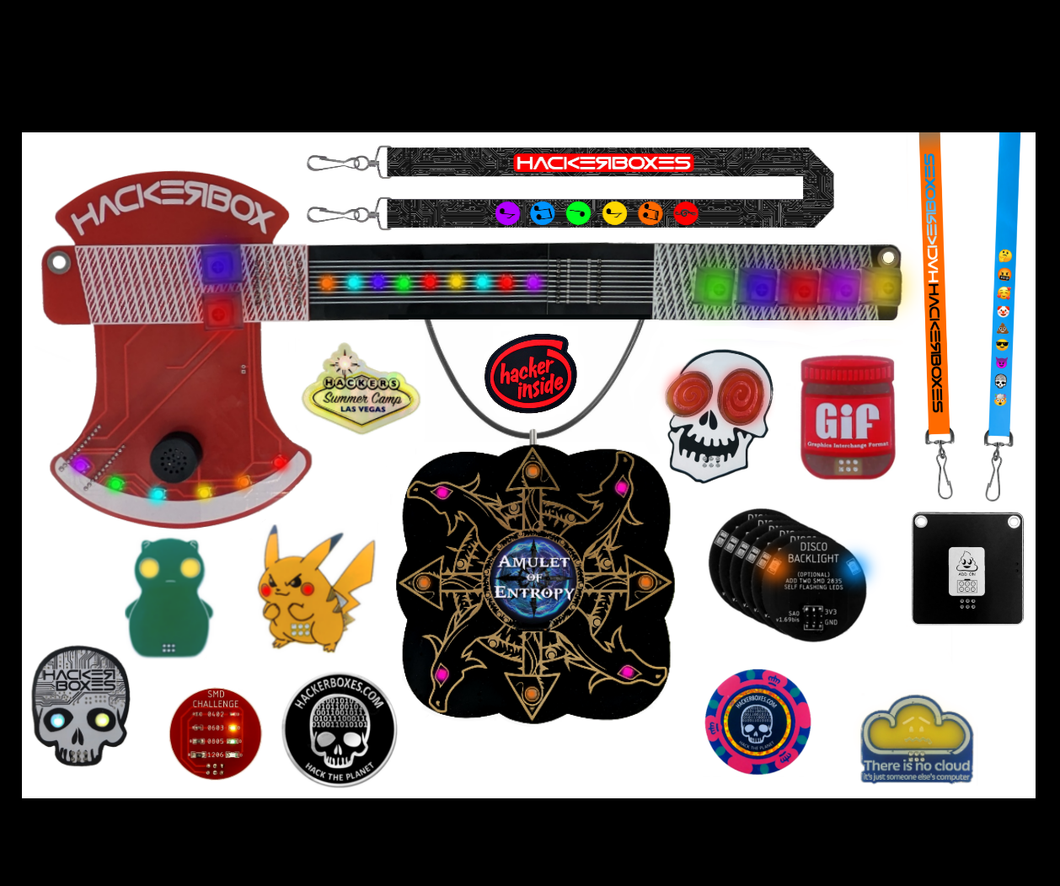 DC30 Badge Bundle
Regular price $237.00 $217.00 Sale
This outrageous bundle includes all three remaining HackerBox #badgelife kits: Amulet of Entropy, Battle Axe, and a collection of 15 Snazzy SAOs. 
You also get a $20 automatic discount, $50 worth of additional surprise gifts, AND free domestic shipping...  MADNESS!

The Amulet of Entropy (AoE) is based on the Raspberry Pi RP2040 dual-core ARM microcontroller, and features a circular 240x240 pixel 1.28 inch full-color IPS display, eight RGB LEDs, four user input buttons, and a LiPo battery manager. Four on-board entropy sources harness randomness from nature through ambient light, thermal noise, motion, and semiconductor junction noise.

HackerBox #0074 - Battle Axe

Assemble the three-piece Battle Axe badge featuring two types of RGB LEDs, seven mechanical clicky keyboard switches, and an on-board speaker. Program the Battle Axe as a specialized macropad. Connect the Battle Axe as a game controller for Clone Hero and other music games that really rock!

HackerBox #0068 - SAO Showcase

Fifteen fabulous SAO kits... so many pieces of flair!  Also assemble the SAO Power Badge and a pair of six-port SAO Showcase boards. Work with a variety of LED technologies and take on the SMD soldering challenge. Explore artistic printed circuit board design techniques and program the exclusive Wi-Fi SAO using the Arduino IDE.