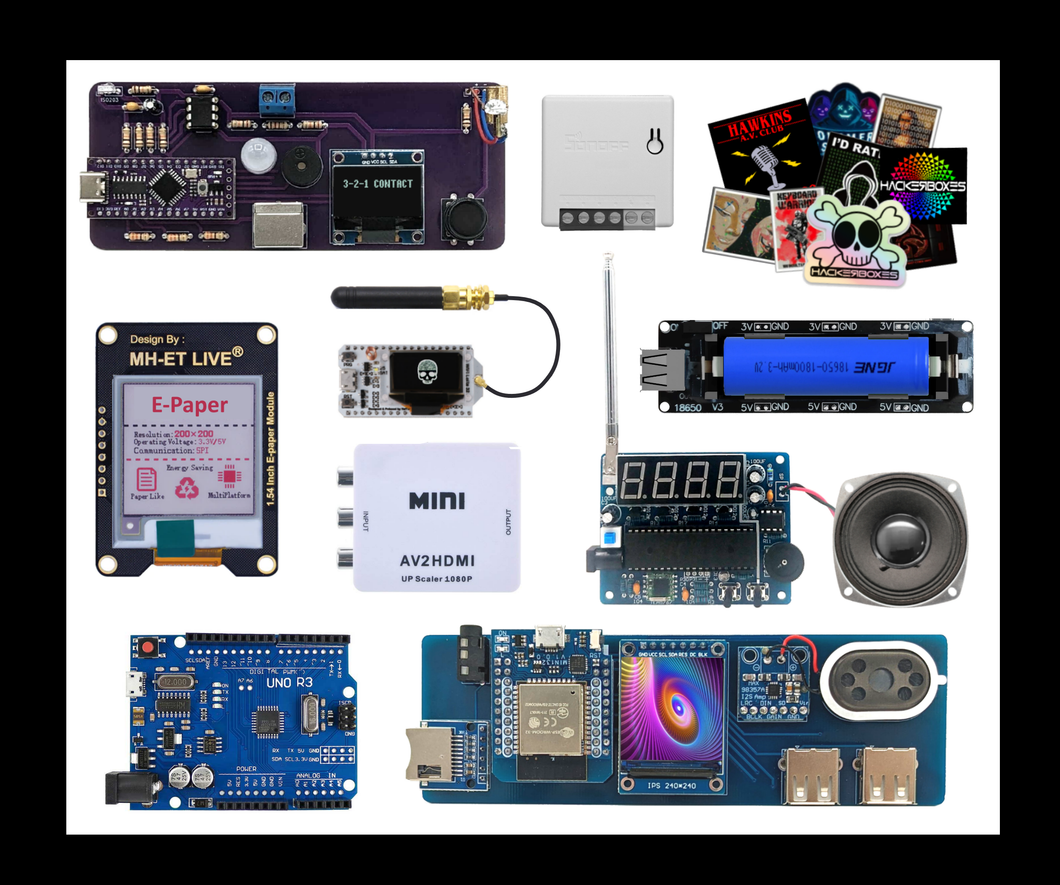 Discovery Bundle
Regular price $250.00 $199.00 Sale
The HackerBox Discovery Bundle features popular projects from four past monthly boxes, including:
The HackerBox Exclusive A.V. Club Kit. Built around an ESP32 D1 Mini Microcontroller featuring both Wi-Fi and Bluetooth, the A.V. Club Kit includes a full-color 1.3 inch IPS display module and circuitry to generate both composite and HDMI video output. (See HackerBox 0075)
Two HackerBox Exclusive "Let's Make Contact" Communication Kits. Experiment with multiple communication modes, including Morse code or text messages entered via keyboard or serial interface modulated onto an optical laser link, and long distance RS-485 communication links. Both kit are built around an LGT8F328P microcontroller. (See HackerBox 0081)
A LoRa32 module with built in OLED Display. The LoRa (Long Range) radio module provides an SMA antenna interface for multiple antenna options. LoRa operations on 868/915 MHz bands support Sniffer, Station, SoftAP and Wi-Fi Direct modes. The ESP32 microconnroller also provides Wi-Fi and Bluetooth functionality.
An FM Radio Receiver Kit. The TEA5767 single-chip FM digital tuner features an 8051-based microcontroller core. (See HackerBox 0066)
A 1.54-inch ePaper Module capable of displaying black, white, and red at a resolution of 200x200 pixels. The electronic paper display (EPD) leverages Microencapsulated Electrophoretic Display (MED) technology. (See HackerBox 0046)
The Sonoff Mini R2 Wi-Fi Smart Switch can be configured to explore smart home automation technologies.
An Arduino UNO compatible development board with experiments and accessories.
A USB 18650 Battery Power Bank Shield (battery not included).
The Discovery Bundle also includes a pile of cool hacker stickers and exclusive merch items such as phone accessories, a patch, a pin, and a knit hat. 
As always, online educational materials provide hours and hours of education and entertainment.